The Mega Millions lottery often displays multi-million jackpots that make us dream instantly. Here are the top 10 prizes that this American lotto awarded so far, which should give you an idea about why it is worth playing the Mega Millions:
1. $1.602 billion, August 8th, 2023
Almost 5 years after the previous $1.5 billion jackpot, the Mega Millions have done it again, just bigger! Following a string of 31 rollovers, an unbelievable $1.602 billion jackpot was finally captured on August 8th by a ticket bought in Florida. The lucky winner has 180 days to claim their prize, and because of Florida's laws, we are sure to find out their identity when they do.
2. $1.53 billion, October 23rd, 2018
In 2018 the US Mega Millions became the second lottery ever to surpass the $1 billion threshold . On October 23rd, the first prize reached a whopping $1.53 billion, just shy of setting a new world jackpot record. People from all over the world wanted a chance to win this ground-breaking prize. After one of the most intense lottery draws ever, the Mega Millions jackpot was eventually won by a single ticket, which was purchased in South Carolina.
After over four months of eager anticipation, the South Carolina jackpot winner finally came forward to claim the prize and chose to stay anonymous. Luckily for him or her, South Carolina is one of the few American states where lottery winners are allowed to keep their identities private. The ticket-holder chose the cash payout for this tremendous prize, which nets $878 million, before taxes.
According to Hogan Brown, the Executive Director of the South Carolina Lottery Commission, the lucky ticket was purchased as a Quick Pick. He also said that the winner is still amazed by how the events of that day unfolded to lead to such a remarkable result. "The winner even allowed a fellow customer to make a Mega Millions lottery ticket purchase in front of the winner while in line at the store. A simple act of kindness led to an amazing outcome."
3. $1.348 billion, January 13th, 2023
Some would think that Friday the 13th brings bad luck but it has been a good date for at least one person: on Friday the 13th of January 2023, a player from Maine scooped an amazing Mega Millions jackpot: $1.348 Billion!
This lucky Mega Millions winner became Maine's first ever Mega Millions jackpot winner but also Mega Millions' third largest winner. He claimed his prize on February 22nd, 2023 after choosing to collect the cash option through a limited liability company with the name LaKoma Island Investments LLC.
He was the only player that matched all the winning numbers on that drawing, but 14 players guessed all the main numbers (without the Mega Ball number). This brought them the second-tier worth $1 Million.
4. $1.337 billion, July 29th, 2022
The Mega Millions jackpot had been rising since mid-April. This is how it arrived to reach $1.337 Billion on July 29, 2022.
A single ticket that was purchased in the Chicago area, in a Speedway gas station had all winning numbers: 13, 36, 45, 57, 67/ 14. This means that the winner did not have to share his prize with anyone!
After the prize was claimed in September of the same year, it was revealed that the winning ticket belonged to two players, who chose the Cash option of $780,5 million (before taxes). As Illinois winners that win over $250,000 can choose to keep their identities secret, they did not have to reveal their identity.
This historical draw was a lucky one for many players: 26 players scooped the second-tier prize worth at least $1 Million.
5. $1.05 billion, January 22nd, 2021
A grand way to start 2021 for Mega Millions: the Mega lottery made a new winner on January 22, 2021. After 37 draws that produced no jackpot winner, a single ticket from Michigan matched all winning numbers.
However, it is only after 2 months that an attorney came and claimed the amazing prize! The ticket was purchased by a syndicate of 4 players who chose to remain anonymous. We don't know much about the lucky Mega Millions winners but they declared that they wanted to share their new found fortune with charities.
This makes the Mega Millions lottery one of the best in the world, as, till this day, it is the only lottery that offers 3 jackpots that exceeded $1 billion!
6. $656 million, March 30th, 2012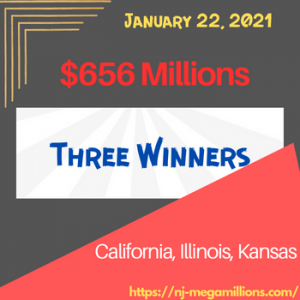 This jaw-dropping jackpot created a real frenzy back in 2012. No other lottery had reached so far! Nobody had dared dream so high! Even if the record was already broken by Powerball with its $1.58 billion jackpot in January 2016, the $656 million prize Mega Millions displayed in March 2012 remains a milestone in the history of the lottery.
What happened to this awesome prize? It was won on 3 tickets: one sold in Maryland and whose owners were a lottery syndicate of three members, aka "The Three Amigos"; another ticket purchased in Illinois by a couple of retirees – Merle and Patricia Butler; and a third on claimed in Kansas by an anonymous player.
7. $648 million, Dec. 17th, 2013
One year after setting the former world record for the highest jackpot, Mega Millions was creating again a momentum. As the holidays season was getting closer, the jackpot was getting bigger and bigger. Everyone was expecting the US lottery to break its own record, but two lucky ticket owners stopped the rollover streak, matching the winning numbers 8, 14, 17, 20, 39 and Mega Ball 7.
Who were those lucky players? One of them is Steve Tran from California. He had purchased his Mega Millions ticket while on a family trip to San José, and forgot about it until he saw on the news that one of the big jackpot winners is from his city. After checking the numbers, he smiled, hugged his wife and sent a message to his boss: I'm really sorry, boss. I hit the jackpot. I don't think I'm going to come in today, tomorrow — or ever." The second ticket belonged to Ira Curry – a 56-year-old woman from Stone Mountain, Georgia. She came to claim his prize together with her extended family.
8. $543 million, July 24th, 2018
2018 appears to be a very lucky year for the Mega Millions lottery. On July 24th, 2018, the American lottery has awarded its third Hall of Fame jackpot of 2018. A lucky syndicate of 11 co-workers from California has scooped a huge prize worth $543 million. The first prize was initially estimated at $522 million, but then, the amount was increased to $543 million due to the massive ticket sales. The cash payment for the 4th largest Mega Million jackpot (at the time) was set at $320.5 million. Ronald Reyes has come forward to collect the prize on behalf of the entire group. He said that they would like to continue working together even after this big win. We want to keep our jobs. We love that company. We love what we've built there. We have a good time and want to stay together." It remains to be seen how their post-jackpot life will go, but with $543 million, they are bound to do some great things.
9. $536 million, July 8th, 2016

The draw of July 2016 brought yet another high jackpot. This life-changing amount was scooped by the Waters family in Indiana. They had purchased 5 tickets while driving to a sports camp with their kids. This is why everybody should play the Mega Millions lottery.

10. $533 million, March 30th, 2018
The second jackpot of 2018 got to no. 6 on our Mega Millions jackpot Hall of Fame and it was won in Riverdale, New Jersey. There was a single winning ticket for the $533 million prize and it was purchased in a Lukoil station. The lucky winner is Richard Wahl, 47. It was his second time playing the Mega Millions and he bought his tickets on an impulse. When he checked his numbers, he did not realize he had matched the Mega Ball as well, so he initially thought he had won $1 million. When he realized just how much money he had won, Richard told his wife they were finally going on vacation. The Wahls are thrilled with their enormous win and they believe that it was God's plan for them to become jackpot winners as Richard played with a Quick Pick ticket.
11. $522 Million, June 7th, 2019
The $522 million jackpot was won by Laarni Bibal from California. She bought a Quick Pick ticket from her favorite deli and, much to her surprise, the next day she heard that the big Mega Millions jackpot was won right there. "My heart started beating really fast!" She had a good reason because she was the sole winner of this amazing prize. She chose the $340 million cash option eventually and she plans to use the money to pay off debt and buy a new house.
12. $515 million, May 21st, 2021
A single ticket purchased in Bucks County, Pennsylvania brought a $516 million jackpot to its owners. This was the biggest Mega Millions jackpot scooped in Pennsylvania.
The ticket was purchased by a syndicate of 5 players who chose the name "The Peace of Mind Trust" as they decided to remain anonymous. Their lawyers even added: "Maintaining anonymity is key to ensuring that normalcy"
13. $502 million, October 14th, 2022
The drawing of October 14, 2022 saw an amazing jackpot of $502 Million being won by 2 winning tickets from California & Florida. It also saw 1,054,198 Mega Millions winners including more than 56,000 New Jersey winners. It was 2022's sixth Mega Millions jackpot and the first jackpot after the record one of $1.337 billion from July 29, 2022!
14. $451 million, January 5th, 2018
On the second draw of 2018, the Mega Millions lottery has caused a world-wide frenzy with its $450 million jackpot. This fabulous prize was won by 20-year-old Shane Missler from Florida, who decided to take the cash payment on his prize worth $281.8 million. The Mega Millions got a head start in the lotto world this year, so get ready for the amazing prizes coming up in 2018!
15. $437 million, January 1st, 2019
The New Life syndicate from Long Island scooped a huge $437 million on the very first day of 2019. If that is only the beginning, then 2019 is bound to be a legendary year for the 23 co-workers. They played the lottery together week after week and it eventually made them millionaires. They each put in one dollar in an envelope and then use the all the money for lottery tickets. The Long Island syndicate chose not to go public and to continue working together because they feel like part of a family.
16. $431 million, September 21st, 2021
A single ticket with the numbers36-41-45-51-56/13 scooped the jackpot on September 21, 2021. This was the second Mega Millions win of the year 2021.
The lucky winner chose the Cash value of $314.4 million. Not bad for a ticket purchased in a pizza shop in midtown Manhattan.
17. $426 millions, January 28, 2022
The $426 million jackpot of January 28, 2022 was the first Mega Millions jackpot of the year. It brought $292.9 million to Kristine Wellenstein (ticket holder) as she chose the lump sum payment.
After purchasing her ticket in Woodland Hills in the Los Angeles county, at a Chevron station, this lucky player became one of Mega Millions' biggest winners.
She said that she wants to "help the community and support local and global initiatives."
18. $414 million, March 18th, 2014
Back in 2014, Mega Millions was making eyebrows rise as the jackpot was getting bigger and bigger. The $414 million prize was split among two tickets owners: one from Maryland, who decided not to reveal his identity, and a syndicate from Florida, known as the Cobie and Seamus Trust.
19. $393 million, August 11th, 2017
The Mega Millions made lottery history in August 2017 with a huge first prize worth $393 million. This fabulous amount was won by a single lottery player, Patricia Busking from suburban Chicago on August 11th and it was applauded by Mega Millions fans everywhere.