After an amazing year in 2022, it seems that the US Mega Millions wants to keep its momentum: a single ticket purchased in the state of Maine brought the first Mega Millions jackpot of 2023 on Friday the 13th of January – $1.348 Billion!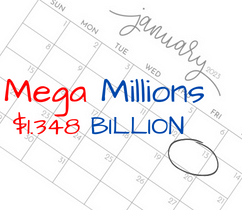 This means that the Mega Millions winning numbers 30-43-45-46-61/14 were all featured on a single ticket. It also means that the owner(s) of the ticket will not have to share this jackpot with anyone else!
Wait, there is more:
This is the first Mega Millions jackpot scooped in Maine!
It's the second largest Mega Millions jackpot ever!
It's also the 4th largest lottery jackpot ever scooped in the world!
Furthermore, this jackpot marks the 4th time Mega Millions offered a billion-dollar win.
We should mention that it is the 7th Mega Millions jackpot scooped on Friday the 13th as well.
The owner of the winning ticket has not yet come forward to claim this amazing prize, but he has one year to do so. He also has to choose whether he want the cash value (around $723.5 Million) or the annuity (over 29 years). As the ticket was purchased in Maine, the winner can claim the prize under a trust and therefore keep its anonymity if he wants to.
This Friday the 13th seems to have brought some luck to quite a few people who chose to play Mega Millions. Overall, there were over 7 million winners on that draw, including 14 players who scooped the second prize ($1 Million) by guessing the main numbers but not the Mega Ball number.
The store which sold the winning ticket will receive a $50,000 bonus too. All in all, we can say that many people benefited from this draw…