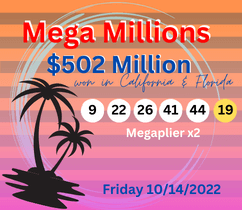 Mega Millions first prize had reached $502 Million on October 14, 2022 when it was won by 2 winning tickets purchased in California and Florida.
This fantastic jackpot had been rolling over for 21 draws before becoming the 6th Mega Millions jackpot of 2022 to be scooped.
People from all over wanted to participate and the Mega Millions results didn't disappoint:
2 Mega Millions winners will share the jackpot of $502 Million (over half a Billion dollars)!
There were 1,054,198 winning tickets including over 56,000 New Jersey winners.
3 players scooped the second prize of $1 Million including a player from New Jersey. He purchased his Mega Millions ticket at One Stop Shoppe, 300 Parksville Station Rd., Mantua in Gloucester County. One of the other winners of a second-tier prize had purchased a ticket with the Megaplier option, this means he will get $2 Million.
25 tickets won a third-tier prize ($10,000), including 7 tickets with the optional Megaplier (therfore worth $20,000 each).
It is the first time in almost exactly 5 years that the first prize of the Mega Millions is scooped by more than one winning ticket. Here are the winning numbers: 09-22-26-41-44/19.